Look good
Our journey began with our search for a chic, functional and versatile wetsuit. We wanted it to have a superior fit, extra warmth but it had to look good too.
We weren't interested in another boring black wetsuit or perfecting a technical race wetsuit, which is really difficult to get on and off or that you had to wear gloves to put on.  Who needs that at 6am! 
We wanted colour and design.  
We wanted panels to enhance our curves, lines to lengthen your legs.
A fit that covered and contained all our individual shapes - bums, boobs - the works.  
We wanted a smooth feel inside and out. No more scratchy seams or neck chafing. 
We are coldy cats, so we needed our suits to be warm. 3mm neoprene will give you the extra mm to keep you toasty all year round.
So after many months of samples, wear testing  and discussions with our manufacturer, we believe we have come up with wetsuits that tick all the boxes. The Swim Set wetsuit is a timeless, essential piece for any water woman's wardrobe.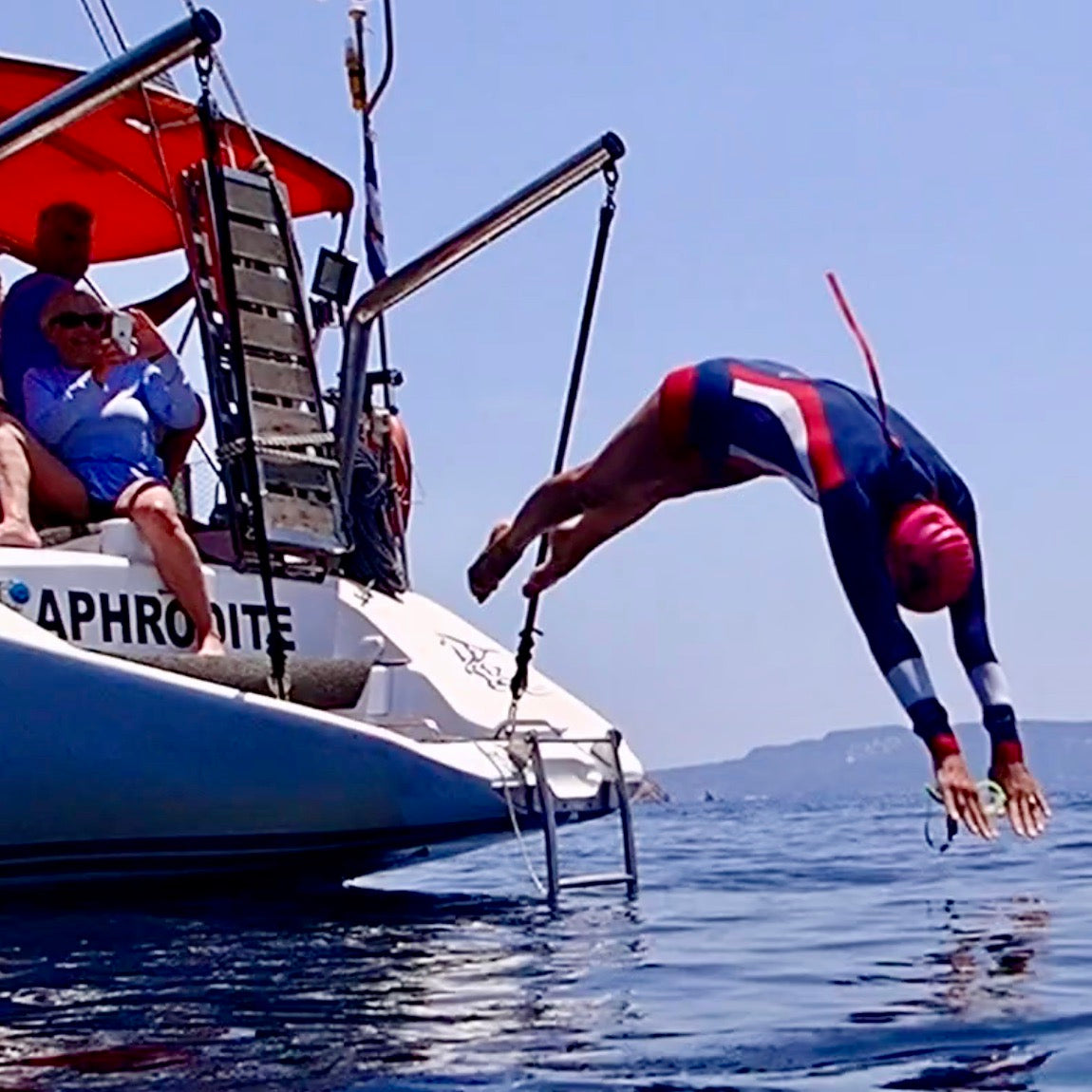 Feel Good
Everyone knows if you feel good, you perform better.
So not only do our wetsuits feel great on the skin but you feel good about wearing them, as they are made consciously, with the environment in mind.
In our search for sustainable neoprene we realised that it's a tricky material to source. All neoprenes are not made the same.
After lots of reading and research we chose 100% limestone neoprene. It's not only better for the planet but it feels good too.  
Limestone-based neoprene differs from petroleum oil based neoprene in that it has a higher-density, closed cell structure. These closed cells are essentially air bubbles packed tightly together within the  structure of the neoprene. There are several functional benefits of this, including increased elasticity and durability, decreased weight and water absorption and improved heat retention- all important factors in a high-quality suit.
We have laminated our neoprene inside and out with super stretchy nylon spandex. The luxurious buttery feel of this premium product means it's elasticity makes it easy to put on and most importantly it means the wetsuit doesn't chafe.
Stitching is not only a design feature. Our long sleeve wetsuits are glued and blind stitched using water based non toxic glue.  This seals the seams to keep warmth in and water out.
Swimming for us is about our daily dose of vitamin Sea. Our day is not complete without it. We believe that salt water cures everything, boosting your immune system and activating what we call "happy" endorphins. 
Shared exhilaration and euphoria is how most swimmers report feeling after a swim but we just like to say…
"you never regret a swim"
Swimmers are communities of friendly people. Turn up to any ocean beach in Australia or around the World and you will find a group of inclusive friendly souls. The ocean invites us all to enjoy her. All body types, all levels, all interests — all you need is a smile and the will to get wet.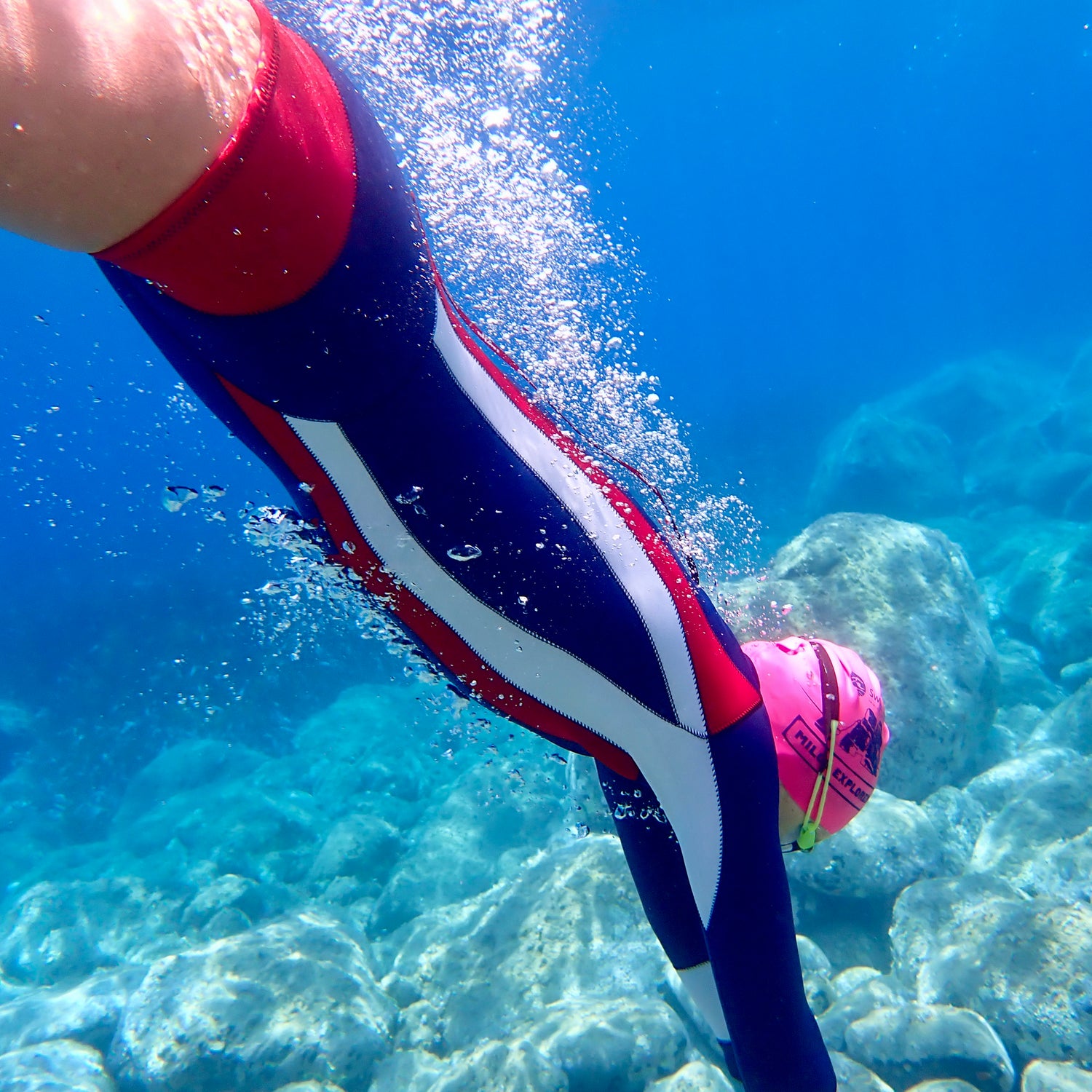 Do Good
We're not perfect but we believe every little thing helps our planet.
We want our grandchildren to be able to enjoy the wonders of the ocean like we have been able to. From turtles in Heron Island to our friendly resident turtle at Balmoral where we swim daily.  
So we produce consciously and produce less. Small runs mean no excess stock.  No excess stock means no land-fill.
Our manufacturers and suppliers are OEKO TEX approved.  
Our wetsuits and tees have printed care instructions onto the garment removing the need for labels that more often than not end up in the bin.
Our shipping envelopes come from Hero 100% compostable eco-friendly packaging.
We transport with AusPost who are working towards UN Sustainable Development Goals for 2030.
As sisters we care for our local community. We have been volunteering with our local swim club the Balmoral Beach Club for over 15 years. We are also on the organising committee for our local, annual ocean swim event, the Balmoral Swim for Cancer. An event that raises much needed funds for the Children's Cancer Institute.
Small steps to leave the planet as we have enjoyed it.